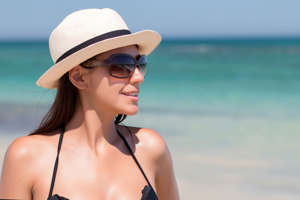 © arturogi/iStock/Getty Images The sun is out, which means it's time to put on that SPF.
With Memorial Day approaching, many of us have our sights set on the great outdoors. But whether that happens to be a day at the beach, walk in the park, hike in the woods or lazy afternoon by the pool, most of us know enjoying the ease of summer also requires some critical precaution. The last few decades of medical research has led to a greater understanding about the dangers of direct sunlight and cancer risk. However, the rates of melanoma have still tripled over the last three decades.  
Vitamin D is important but protecting one's self from sunburn and too much exposure is critical to long-term health. That's why it's important to wear sunscreen. But when standing in the pharmacy aisle faced with scores of options it can be difficult to know exactly which one to choose.
This week, the Environmental Working Group (EWG) released its 11th annual sunscreen guide to make selecting protection far less stressful. EWG, a Washington, D.C.-based research organization that monitors the safety of consumer products and lobbies for stricter regulations, reviewed formulations of more than 880 beach and sport sunscreens, 480 moisturizers, 120 lip products with SPF. And they made a surprising and disappointing discovery. Based on a review of disclosed ingredients on product labels they found that 73 percent of sunscreens don't actually work.  
The team of researchers also found that many of these products contained potentially toxic ingredients such as oxybenzone, a hormone disrupter and retinyl palmitate, a form of vitamin D that may actually increase risk for skin cancer, according to some research.
But there was some good news. Nearly 100 percent of the sunscreens reviewed in the guide filter UVA rays—the most harmful to long-term health. This is an 18.6 percent increase since 2007. The other good news is that there are far more mineral-only sunscreens on the market. According to EWG, mineral-based sunscreens tend to rate well in efficacy and safety. These sunscreens use natural elements such as zinc oxide and titanium dioxide to block harmful UVA and UVB rays.
Sunscreen is considered a cosmetic and beauty care product, and is therefore not regulated by the U.S. Food and Drug Administration. However, since 2011 a number of regulations have been enforced to protect consumers from dangerous chemicals and improve product labeling so consumers can make good buying decisions. Companies are now required to include a warning on labels about cancer and premature aging. The FDA has also enforced guidelines that prevent misleading labeling. Companies are no longer permitted to use the phrases "waterproof" and "sunblock" on labels since both overstate the the efficacy of products.
One factor driving some of these positive changes is the Sunscreen Innovation Act, a law to expedite the review of new ingredients signed by former president Obama in 2014. The law allows the FDA to more efficiently review ingredients that are used successfully on the international sunscreen market. Additionally, it allows the FDA to request additional data from sunscreen companies about the safety and effectiveness of all pending active ingredients.
Even still, the industry has a long way to go, which is why EWG is pushing for stricter regulations. EWG says guidelines for broad spectrum testing are still weak and in many instances the sunscreens on the market are not strong enough and would not pass regulatory guidelines in Europe, which is known to sell higher quality products that offer better broad spectrum protection. Many of the active components in European brands are safe but not approved for the U.S. market.